When you cross the bridge from the mainland to Hilton Head Island, you immediately know you are somewhere else. Not to say that the island is undeveloped, but it is done in such a way that you do not notice it. Trees buffer shops and restaurants from the main road. Business signs are low to the ground and done in natural colors that blend into the surroundings. Thus, you notice the grand oak trees draped with Spanish moss, palm trees, and marshlands before anything else.
It's a good thing that phones have GPS to guide you to where you want to go because it is easy to miss many of the shops and restaurants camouflaged behind trees and neutral versions of their logos on signs. Although you may never even get back in your car once you park it because the island is covered in bike trails. There are so many family-friendly activities on Hilton Head, but we are going to limit ourselves to 15, so let's go!
15 Hilton Head Family Activities To Explore
---
Beaches & Tidal Pools
You go to Hilton Head for the beach, and it does not disappoint. What makes Hilton Head particularly well suited for families are the tidal pools. Sure, many beaches have tidal points during low tide, but they are not really a guarantee. Yet, Hilton Head seems to always have them at low tide. Tidal pools are the perfect place for kids to play and explore while parents sit back and watch. A favorite past time as one of the Hilton Head family activities is one that allows parents to relax, yes, please! After all, you are at the beach!
You Can Bring Fido
If you can find a hotel or vacation rental that allows dogs, then your dogs can join the rest of the family on their beach vacation. While dogs are not permitted directly on the beach between 10 a.m. and 5 p.m. from the Friday before Memorial Day through Labor Day, there are regulations for when they are allowed which can be found here. If your Hilton Head family activities want to involve all members of your family, it does not get more family-friendly than allowing even Fido to join in the fun!
Renting Bicycles
As mentioned previously, there are bike paths covering Hilton Head. On the 12-mile long and 5-mile wide island, there are 6 miles of bike lanes and 117 miles of shared-use pathways. Hilton Head has been recognized as one of the top 25 bicycle-friendly communities in the United States. The network of pathways helps reduce congestion on the island and adds to the general getting away from it all feeling that the island exudes.
Bicycles are readily available at rental companies throughout the island, many which deliver directly to your accommodation. Carriages that hitch on to the back of bikes, as well as bikes for young children, are all available for hire so make sure to enjoy one of the most popular Hilton Head family activities.
Tennis & Golf
For the active family, there is no better place in the Southeast for golf and tennis than Hilton Head. In the greater Hilton Head area, there are over 40 courses, and one million rounds of golf are played each year. For the tennis lover, there are 300 courts in all Grand Slam surfaces including grass.
Dolphin Tours
Dolphins are perhaps the most lovable of all sea life. There are hundreds of bottlenose dolphins in the waters surrounding Hilton Head. Depending on the type of activities your family enjoys, you can choose between boat and kayak tours that give families an up-close view of dolphins in their natural habitat. Some of these tours even guarantee a dolphin encounter. Add to this the other types of coastal wildlife that can be seen during these tours, and it is easy to see why this is one of the Hilton Head family activities that should not be missed.
Family Crabbing Excursion
Blue Crabs are the most picturesque of the crabs. You will see artistic representations of them all over Hilton Head Island. But they also taste really good! And are fun to catch! So take an excursion with your family and enjoy learning how they are caught along the coast. Like the dolphin tour, your crabbing tour has the added bonus of witnessing other types of coastal wildlife like Egrets and Blue Herons.
Pirate Ship Adventures
Maybe a dolphin tour on a normal boat is not exciting enough for your kids. Or maybe your family is looking for an interactive adventure with water cannons and a search for buried treasure. Either way, Hilton Head has you covered. Pirate ship adventures are the ultimate Hilton Head family activity, certain to keep your kids entertained from beginning to end.
Miniature Golf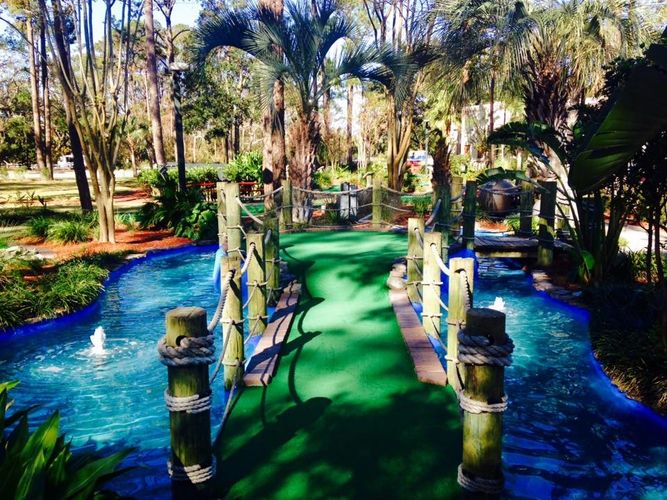 It is only fitting that there is miniature golf on every corner, remember, there are one million rounds of golf played on Hilton Head each year. Since miniature golf can be played by kids and grown-ups of all ages, it is one of the perfect Hilton Head family activities to partake in. There is even a pirate-themed putt-putt course if your kids are still talking about that pirate ship adventure!
If your family needs a little more action than boating and miniature golf, you are in luck. There is an aerial park in Hilton Head that offers more than just zip-lining. You can create your own challenge course at various levels from beginner and kid-friendly to tough enough for an expert! Each experience is customized to your group so it is the perfect Hilton Head family activity.
About a 45-minute drive from Hilton Head is Sands Beach in Port Royal. This is the place to go to hunt for shark teeth. It is a peaceful spot and a bit out of the way, but if you want to take home a shark tooth as a souvenir, this is a must-do activity while visiting Hilton Head. When your hunt for shark teeth has come to an end, make the short 13-minute drive to Beaufort for a bite to eat and a walk along their riverfront.
There are many learning opportunities at the Coastal Discovery Museum, but even if your trip does not coincide with these Hilton Head family activities, do not fret. There are plenty of family activities that can be enjoyed at the Coastal Discovery Museum on any day, and the best part is that entry is free! Both natural history and cultural history are on full display here, so be sure to stop by during your time on Hilton Head.
While this activity is probably best for families with older children, we wanted to include it because it is so important. The Gullah people have their roots in West Africa and are direct descendants of slaves dating back to the Civil War. The Gullah people have retained their native language and have strong ties to their culture. Their music, food, religion, folk stories, and more are incorporated into an interactive, educational, and entertaining tour. Gullah Heritage Trail Tours is one of the most unique Hilton Head family activities because it teaches the history and culture of a small group of people that only exist in certain parts of the Southeast.
If you want to experience life off the grid, take your family on an adventure to Daufuskie Island which can only be reached by boat. Once you are there, the main mode of transportation is via golf cart. You can continue your lesson in Gullah heritage as it is deeply rooted here. If your family enjoys horse-back riding, make sure to arrange a ride on the beach here as it is one of the most unique Hilton Head family activities. Before you leave, make sure to try out one of the few restaurants on the island to enjoy fresh low country cuisine.
Skull Creek
Speaking of low country cuisine, make sure that you and your family find your way to Skull Creek during your stay. Skull Creek Boathouse and Skull Creek Dockside are sister restaurants that are just as much a destination as a restaurant. Your family can enjoy the area for hours as they have created an atmosphere on the water where kids can play while parents sit back in Adirondack chairs enjoying the fire pit or the view. Not only can your family enjoy low country cuisine and seafood here, but there is a phenomenal sushi bar as well as legit southern bbq. Everyone in the family will be able to find something they like on the menu and will enjoy the Hilton Head family activities surrounding the restaurants before and after their meal.
It is a little misleading call this place a resort. It comprises a third of Hilton Head Island. To access the resort, you must pay a gate $6 fee, but once you enter the resort, you will see that it is well worth the fee to have access to all of the things to do in this part of Hilton Head.
There are many types of accommodation here, but if you are just visiting for the day, head straight to the marina. The area surrounding the harbour is appropriately named Harbour Town, and it is here you will find the iconic red and white candy cane striped lighthouse. You can climb to the top of The Harbour Town Lighthouse, enjoy a bite to eat at one of the many restaurants, jump on one of the boat tours, let the kids play at the coastal themed playground or just do a little shopping.
Under the old oak tree in Harbor Town, Greg Russell has been entertaining kids and families for over 30 years. Check out his website for his annual schedule to find out if you are lucky enough to be visiting while he is performing one of his free concerts. There is truly something for everybody at Sea Pines as one of the Hilton Head family activities to visit.
[td_smart_list_end]
---
Hilton Head is renowned as being one of the top family-friendly destinations in the United States, and it is easy to see why. There are so many things to do which makes Hilton Head family activities a destination to visit over and over again. Remember, Hilton Head is not just for summers, temperatures are beach perfect as early as March and as late as November, and you will even get some warm days in the winter. So no matter the time of the year and ages of people traveling with you, Hilton Head is an ideal beach destination.
ENJOYED THIS? CONNECT WITH US ON SOCIAL MEDIA

• Newsletter: sign up here
• Facebook: EveryAvenueTravel
• Instagram: TravelEveryAvenue
💖WANT TO TRAVEL MORE?💖
Subscribe to receive trip ideas and inspiration right into your inbox once a week!
PIN THIS FOR FUTURE REFERENCE